Per the recent report by Shibburn crypto platform that tracks SHIB transfers to unspendable addresses on Etherscan and then accumulates this data on its website, within the past 24 hours, the burn rate of Shiba Inu has plunged by slightly over 50%.
As it happened, the price of Shiba Inu, which added one zero on Monday, has not been able to recover to the previous level yet. At the time of this writing, SHIB is changing hands at $0.000009918, going down slightly more than 1% in the last 24 hours.
SHIB burn rate plummets badly
Within the last 24 hours, Shibburn data states, a total of 7,261,876 Shiba Inu coins were sent to dead-end wallets to be locked out of the circulating supply, which now constitutes 574,121,672,859,034 SHIB. Likewise, the burn rate is down 52%.
Compared to the previous week and even to Monday, the burn rate of Shiba Inu is declining, while last week it jumped more than 1,000% several times, although the percentage growth totally depends on the difference between the burned number of SHIB and how many Shiba Inu were removed from circulation a day before.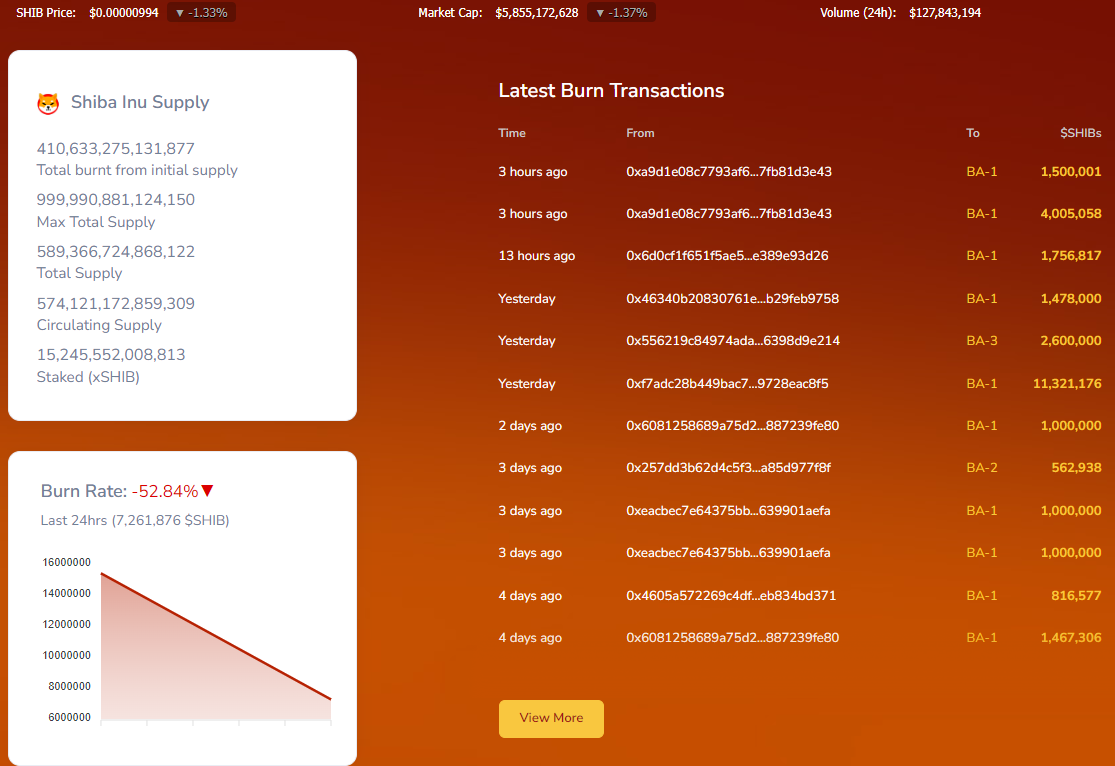 Burn rate depends heavily on Shibarium
After the Shibarium beta Puppynet was released on March 11, the developer team of Shiba Inu issued Shibarium documentation, in which, aside from other things, they described the mechanism of token burns that would be implemented on Shibarium.
According to the docs, each transaction on the testnet will contribute to SHIB burns thanks to the transaction fee paid in BONE (the governance token of the ShibaSwap DEX).
This fee is separated into a base fee and priority fee. Seventy percent of the base fee will be locked into Shibarium to be converted into SHIB later on and burned. Thirty percent will be used to sustain the blockchain.
Data provided by Puppyscan shows that during the past week, the amount of transactions has not been high. The peak of 473,704 transfers was registered on April 20. Since then, the number of daily SHIB transactions has seldom exceeded 20,000.
Number of SHIB Twitter followers hits new high
As covered by U.Today earlier, the number of Twitter followers of the official Shiba Inu handle has surged above the 3.7 million level from 3.4 million in May 2022. In the meantime, the number of SHIB holders has increased to 2,373,725 — that is 900,000 less than the SHIB army on Twitter.
Curiously, the original meme token Dogecoin has the same number of Twitter followers, 3.7 million, so SHIB and DOGE are moving neck-and-neck here.